"We exclusively use "Tenara" brand thread even though it is approximately 15 times the cost of polyester or nylon because of the reasons below:
Why Does Stitching Fail?
Outdoor fabric products are exposed to ultraviolet (UV) radiation, cleaning agents, pollution, salt water, air, rain, and snow. While these elements affect both fabric and seam thread, the thread usually fails first. Traditionally, polyester thread has been used, requiring re-stitching every few years. Today's fabrics last 5 to 10 years. Why not have seams that last just as long?
Why is GORE TENARA thread Different?
Made from expanded PTFE (a unique polymer, very different from polyester), GORE TENARA thread is non-aging and will not deteriorate from exposure to the elements - even after years of exposure. More Info Here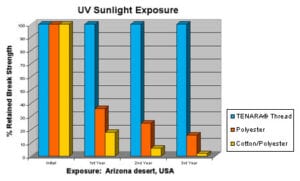 Sewing threads were exposed to the elements in the Arizona, USA desert over three (3) years. While other threads lost over one-half of their strength, GORE TENARA thread maintained 100% of its strength.
We give a 5-year warranty on our workmanship. Lifetime on the seams! Our corporate mission is to make sure 100% of our customers are happy with our products. Please read
All statements and technical information are based on the information given from other sources that have statements much like this tied to their products. In other words, The Following is made in LIEU of all warranties Express or Implied, including the implied warranties of Merchantability and Fitness for a Particular purpose: GetTarps.com the only obligation is to replace the quantity of product that is defective. This is GetTarps.com sole discretion and assumes no obligation other than replacing the product as a Customer Service Gesture. GetTarps.com will not be held liable for any injury, loss, or damage, direct or consequential, arising out of the use of or inability to use the product. Before using the user must determine the suitability of the product for his or her intended use.
We give a 5-year warranty on our workmanship. Lifetime of the fabric on the seams! Our corporate mission is to make sure 100% of our customers are happy with our products. Please read
Since 99% of our products are custom in nature we do not take back any product unless there is a defect in material or workmanship. If there is a defect in material or workmanship we would have to know about the issue in 14 days after receipt of the product. Please refer to question # 2
We take Visa, MasterCard, American Express, cash in advance, wire transfer, certified check, government credit card. All orders need to be paid for 100% before we start manufacturing unless other terms are worked out in writing before the manufacturing process starts
Any size you can think of but we like to stick to sizes that the customer can handle. Sometimes the heavyweight of a large Tarp is very hard to handle. We will quote any quantity...1 or 10,000. NEW, we now print on vinyl, magnets, mesh, and many other materials. Any quantity, shape, or size!!
Yes, and we are a 100% small business. Our Duns Number is 117501909, Our cage Code is: 32DB4
Truck Tarps, Boat Covers, Special Bags, Skate Board Ramp Tarps and Covers, Lift Covers and Tarps, Sod Tarps, Dump Bags, Pallet Tarps, AC Covers, Wind Break Tarps, Industrial Curtains, Outdoor Kitchen Covers, Hay Covers and Tarps, Lumber Tarps, Steel Tarps, Custom Car Covers and Tarps, Athletic Field covers, Construction Tarps and Covers, Containment Tarps, Curing Covers, Divider Curtains, Firewood Covers, Grain Covers, Excavating Covers, Gymnasium Floor Covers, Roof Covers and tarps, Machinery Covers and Tarps, Debris Collector Bags, Sand Blasting Tarps, Sweat Lodge Covers and Tarps, Temporary Shelter Covers, Tire Covers for Forklifts, Tractor Covers, Demolition Tarps, and Covers, Kiosk Covers, Bimini-Tops, Rock Wall Covers, Drain Tarps and many many more!!!
Construction Industry, Chemical Plants, Offshore Oil Industry, Institutions, Hospitals, Food Manufacturers, Trucking Industry, Seed Corn Farming, Transportation Industry, All Government industries. We focus on MRO (maintenance repair organization) or OEM (Original Equipment Manufacturers) companies.